Colofón
Autores
Este curso fue desarrollado por Frits Hesselink y Peter Paul van Kempen a petición de la Comisión de Comunicación y Educación (CCE) de la UICN.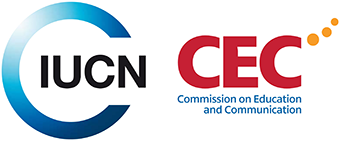 Traducción al español: Beatriz Eugenia Romero Cuevas
Beatriz Romero es una ambientalista  miembro de la CEC de la UICN. Su pasión la llevado a ocuparse en capacitar y educar a adultos en temas ambientales en México y otros países de Centroamérica.
Miembros de CCE de la UICN
Un gran número de miembros de esta Comisión compartieron su experiencia, conocimientos e historias para este curso. Algunos de ellos como miembros del Comité Directivo. Otros como encuestados de los dos cuestionarios que hicimos. Otros como proveedores de información que solicitamos específicamente. Y por último, pero no menor, algunos compartiendo sus historias de las campañas de conservación de la CCE que se basan en apelar a las emociones positivas como propaganda en su amor a la naturaleza. No campañas perdidas.
Queremos agradecer
Rod Abson, CEC member, Switzerland; David Ainsworth, CBD Secretariat, Canada; Rezvin Akter, WildTeam, Bangladesh; Cecilia Amaluisa, CEPP, Ecuador; Laurie Bennett, Futerra, UK; Justine Braby, IECN, Namibia; Florence Clap, French Committee for IUCN, France; Nancy Colleton, Institute for Global Environmental Srategies, USA; Arturo Curriel Ballesteros, University of Guadalajara, Mexico; Dr. Jini Dela, Consultant, Sri Lanka; Louisa Diggs, Nakanuku Media & Communications, USA; Nina Dobryinina, consultant, Russia; Marco Encalada, OIKOS, Ecuador; Tommy Garnett, Environment Foundation for Africa, Sierra Leone; Wendy Goldstein, Macquarie University, Australia; Iqbal Hussain, WildTeam, Bangladesh; Ana Kalinowska, University of Warsaw, Poland; Erlinda Kartika, Ministry of Forestry, Indonesia; Rachel Lowry, Zoos Victoria, Australia; Grace Mwaura, CEC member, UK; Cecilia Nizzola-Tabja, IUCN, Switzerland; Ana Puyol, TRAFFIC, Ecuador; Brooke Sadowsky, RARE, Philippines; Izabella Skawinska-Luther, consultant, Germany; Sean Southy, PCI Media-Impact, USA; Tina Trampus, Institute for Nature Conservation, Slovenia; Pauline Verheij, Eco-Just, Netherlands; Juliane Zeidler, CEC Chair, Namibia.
Agradecimientos especiales
Al Wild Team Bangladesh, por compartir su información, fotografías e historias, y estar dispuestos a asumir la disciplina para mejorarlas para los propósitos de este curso.
A Rezvin Akter, que estuvo en contacto con nosotros durante los últimos 2 años en varios aspectos de conservación, comunicación estratégica y narración, y quién, -por razones didácticas- estuvo dispuesta a protagonizar como heroína el caso central de este curso.
A todos los colegas de Rezvin, que por supuesto el éxito del Wild Team es debido al esfuerzo de equipo, el trabajo crucial para el éxito de los equipos de respuesta de la villa del tigre fue hecho por (Md) la Sra. Ashraful Haque, (Md) Alam Howlader, Mizanur Rahman, Osman Goni del Equipo Salvaje, del Departamento Forestal de Bangladesh los nombres de (Md) Modinul Ahsan (Conservador Adjunto de Bosques) y A N M Yasin Newaz (Director Forestal Divisional) tienen que ser mencionados.
A Chris Greenwood-Barlow, Adam Barlow e Iqbal Hussain del Wild Team, por estar dispuestos a protagonizar como personajes reales en las historias de conservación reales en las que está basado este curso.
Photo credits
Adnan Wahid, Ananya Rubayat, Samiul-Mohsanin, Khairul Islam, Christina Greenwood Barlow, Adam Barlow.
Literatura
Annette Simons, The Story Factor, Inspiration, Influence, and Persuasion Through the Art of Storytelling, 2006.
Dan Ariely, On Empathy and Emotion: Why We Respond to One Person who Needs Help but Not to Many, The Upside of Irrationality, 2010: 239-257
Deborah Small, George Loewenstein and Paul Slovic, Sympathy and Callousness: The Impact of Deliberative Thought on Donations to Identifiable and Statistical Victims, Organizational Behavior and Human Decision Processes 102, no. 2 (2007): 143-153
Hesselink, F.J. e.a., Communication, Education and Public Awareness, a Toolkit for the Biological Convention, Section 4: How to Plan Communication Strategically (Peter Paul van Kempen), 2007
Martin Sykes. A. Nicklas Malik and Mark D. West, Stories that Move Mountains, Storytelling and Visual Design for Persuasive Presentations, 2013
Nike, Workshop The Art of Storytelling, Participant's Guide and Exercises, 2008
Scottish Biodiversity Forum, Biodiversity Communications Toolkit
Klaus Fog, Christian Budtz, Philip Munch, Stephen Blanchette, Storytelling, Branding in Practice, 2010